16 Nov 2022
Borealis UI: Optimized For A Better User Experience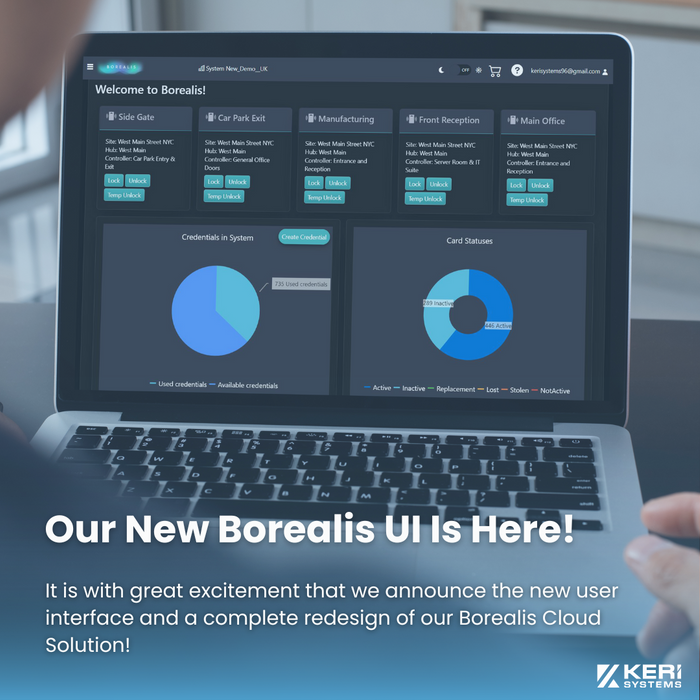 It is with great excitment that we announce the new user interface, and a complete re-design of our Borealis Cloud Solution.
We're excited to announce that our new and improved Borealis cloud solution is now available!
The introduction of this new technology will allow Borealis to continually evolve and expand quicker than ever before, making it one of the most technologically advanced cloud solutions available.
We know how important it is to provide a great customer experience, so we redesigned our Borealis user interface from the ground up. The result? A more intuitive and friendly way of implementing and managing your access control solutions, making it easy to find what you need and increasing your efficiency – all in one super sleek package!
Borealis delivers global accessibility, scalability, and convenience without the need for a dedicated server or client machine. With Borealis, you can connect your security system to the cloud and simplify your access control connectivity using only a browser.

The new user interface not only makes the navigation of Borealis very easy, it also saves you installation and configuration time, reducing the time spent deploying your access control solution. Also consider the removal of software maintenance or update requirements, along with the ability to support all of your clients remotely from a single account, and your business efficiency is vastly improved.
What are the benefits of Borealis?
With Borealis, you don't need to worry about disk space, software maintenance, or backup storage as your data is stored on a flexible and secure cloud server that can scale up and down with your system size.
No software updates! As it's a cloud service, you are always on the latest version.
Manage your system from anywhere with just an internet connection and a browser – including smart devices.
Borealis utilizes a browser-based management suite, which is responsive to all devices, there is no software to install or maintain on your computer.
Disaster recovery becomes the least of your concerns, as your data is securely stored off-site and is recoverable in the event of a catastrophic disaster.
Guaranteed 'up' time of 99.99% powered by AWS.
Why we chose to update our Borealis framework and interface.
First and foremost, we want to provide the best possible solution for our users. The new and improved interface is more intuitive and user-friendly, so you can find what you need more easily. But that's not all – the updated design is also much more visually appealing. We've added new switchable light and dark themes, with more to come in the future to give a fresh, modern look that complements the capabilities of Borealis.
The new interface design allows Borealis to evolve quicker than ever before with a gigantic roadmap of new features, integrations, and functionality scheduled for release, and an open API that makes partner integrations easy!


Never before has a cloud-hosted access control solution been so exciting!