14 Mar 2023
NEW: Move To The Cloud!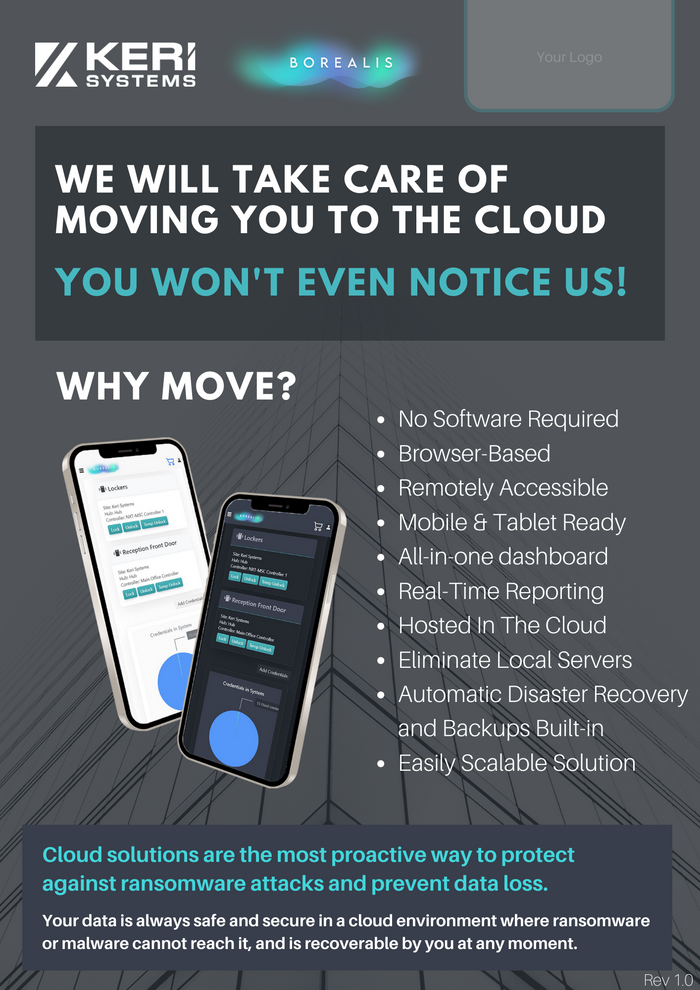 We can take care of your cloud move!
We understand that when it comes to your business, your time is valuable. That's why we offer a white glove conversion service for those customers who want to move their existing access control solution to the Cloud.
Our conversion experts can handle the entire process for you, with no time or effort required from your technical staff, allowing you to continue your focus on your business operation, while we handle the cloud conversion for you – you won't even notice we're there.
Why move to Borealis?
No Software Required
Browser-Based
Remotely Accessible
Mobile & Tablet Ready
All-in-one dashboard
Real-Time Reporting
Hosted In The Cloud
Eliminate Local Servers
Automatic Disaster Recovery and Backups Built-in
Infinitely Scalable Solution
How does the conversion program work?
Here's what we're going to do:
Keri Systems will pre-configure your Borealis conversion – this will include pre-checks and configuring your system & sites. Keri Systems will also configure operators and claim communication hubs on your behalf. We will then complete the conversion and move your existing data to your new Borealis cloud solution.
Here's what you need to do:
Plug in your pre-configured appliance to your DHCP-enabled network so it can communicate with the cloud and update itself. – Your appliance will then notify us when it's online.
*We recommend that your I.T. professional is available to assist should we encounter any unexpected network behavior.
What to expect:
We've made it really easy! All we need you to do, is plug in your pre-configured appliance, and stop your existing Keri access control solution when you are ready to switch to Borealis.
The setup process should only take between 15-30 minutes!