14 Aug 2023
Unlock New potential: Borealis Integration with dormakabas Switch Tech Wireless Locks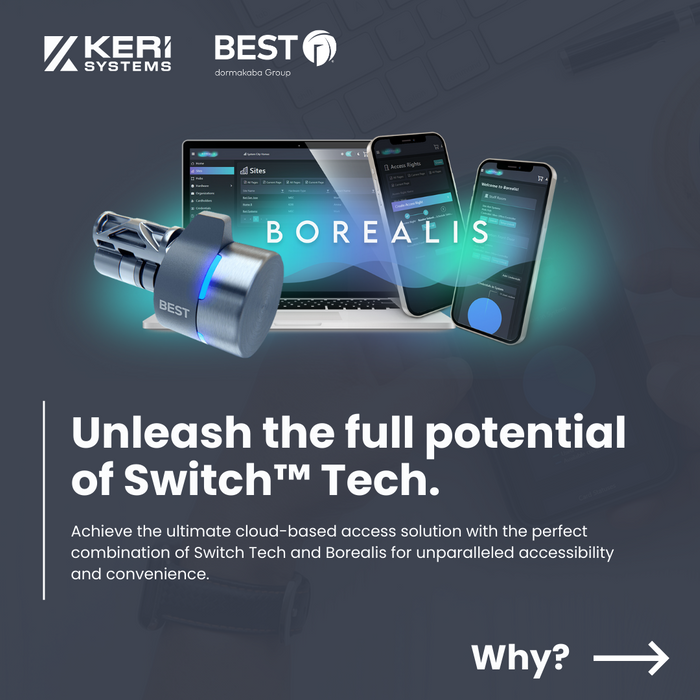 Unlock the full potential of SwitchTech
In a world where technology is advancing at an unprecedented pace, access control solutions have become essential to ensuring security and convenience in various spaces. Keri System has partnered with dormakaba to offer a seamless and powerful integration that takes wireless locking and access control management to new heights to meet the evolving needs of businesses and organizations
.
The Power of Borealis Access Control:
Borealis is a comprehensive and cutting-edge access control solution designed to provide unmatched management for installations of all sizes. With Borealis, you can enjoy the full potential of cloud-based access control, bringing a host of benefits to your organization.
Seamless Wireless Locking Capabilities:
The integration of Borealis with Switch Tech wireless locks brings simplicity and convenience to the forefront. No more dealing with cumbersome physical keys or complex hardwired systems. The power of wireless locking allows you to manage access to your spaces efficiently and remotely, thanks to Borealis' cloud-based infrastructure. This feature offers unparalleled flexibility and control, enabling you to grant or revoke access from anywhere at any time, ensuring your spaces remain secure.
Cost-Effective and Easy to Implement:
Borealis, in tandem with Switch Tech wireless locks, provides a cost-effective access control solution that is quick to install and easy to maintain. The cost savings achieved by retrofitting ten doors with Switch Tech wireless locks for the price of a single hardwired electronic lock are substantial, making it an affordable choice for organizations seeking to upgrade their access control infrastructure without breaking the bank. Moreover, the simple installation process minimizes disruption during implementation, allowing you to enjoy the benefits of the system swiftly.
Centralized Management:
One of Borealis' key strengths is its ability to manage all your sites and integrations from a central location. This centralized approach streamlines access control administration, giving you comprehensive oversight and control over access rights and permissions across your entire organization. With the integration of Switch Tech wireless locks, Borealis creates a cohesive access control ecosystem, providing you with a powerful tool to enhance security and efficiency across multiple locations.
Easy Maintenance and Scalability:
Borealis takes the hassle out of maintaining access control systems. The seamless integration with Switch Tech allows for straightforward credential management via your browser. Adding or revoking access rights becomes hassle-free, reducing administrative burdens and ensuring your access control system operates smoothly. Furthermore, Borealis' scalability lets you quickly expand your access control capabilities. You can integrate Switch Tech wireless locks alongside any existing hardware, allowing for a seamless transition and ensuring compatibility with your current infrastructure.
Enhanced Customization and Monitoring:
Security is a top priority for organizations of all types. With Borealis, you have the power to customize access control settings to suit your specific requirements. Adjust access schedules, set user-specific permissions, and tailor the system to your organization's unique needs. Borealis offers live event monitoring, providing real-time insights into access activities. This feature ensures you can stay on top of security events as they unfold, allowing for quick response and proactive measures to mitigate potential risks.
In conclusion, Borealis' integration with Switch Tech ushers in a new era of access control solutions. By leveraging the power of the cloud, offering cost-effective and easy-to-implement wireless locking, and providing comprehensive management features, Borealis elevates your organization's security infrastructure to unprecedented levels. Embrace the future of access control with Borealis and Switch Tech, and unlock a world of possibilities for your organization's security needs.