VEX 123 Kit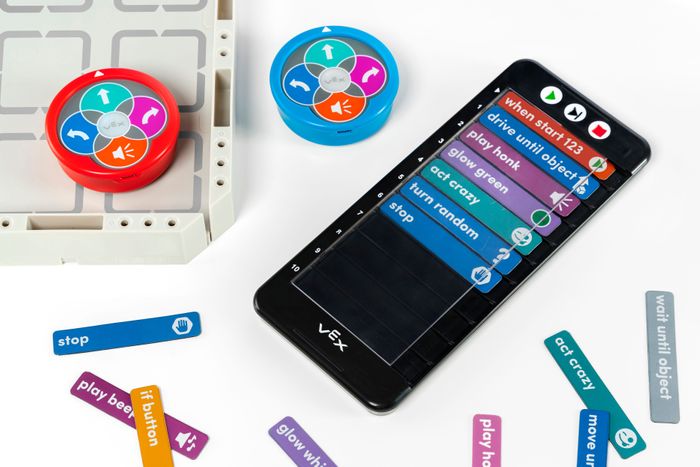 VEX 123 is an interactive, programmable robot that takes STEM, Computer Science and Computational Thinking off of the screen and brings them to life for Reception and KS1 students (age 4-7).

Coding Three Ways
The 123 Robot can be programmed in three uniquely engaging ways:
Touch-sensitive buttons on the Robot.
Inserting physical Coder Cards into the revolutionary VEX Coder to download programs wirelessly to the Robot - no screens needed!
VEXcode 123, for iPads, Android Tablets, Chromebook, Mac and PC.
STEM Lessons
Our latest research-backed educational solution is called STEM Labs. These lessons and activities can be utilised in sequential order to create unique, extended learning experiences. STEM Labs promote collaboration and exploratory learning.
VEX 123 Robot Features
The 123 Robot is sophisticated on the inside so that it can be simple on the outside. The robot will move and turn accurately and repeatably which keeps the focus on learning about sequencing and coding.
The Eye Sensor at the front of the robot can detect obstacles, colours, and light level whilst internal sensors detect collisions and robot interactions.
Output light in various colours via the VEX Button on the top of the robot and incorporate sound into your programs too!
Robots, Coders and Fields
VEX 123 Robot & Coder Bundles include a robot in one of three colours, a VEX Coder, a USB Cable and a pack of Coder Cards in a language of your choice. Add a 123 Field for even more fun.