VEX EXP Education Kit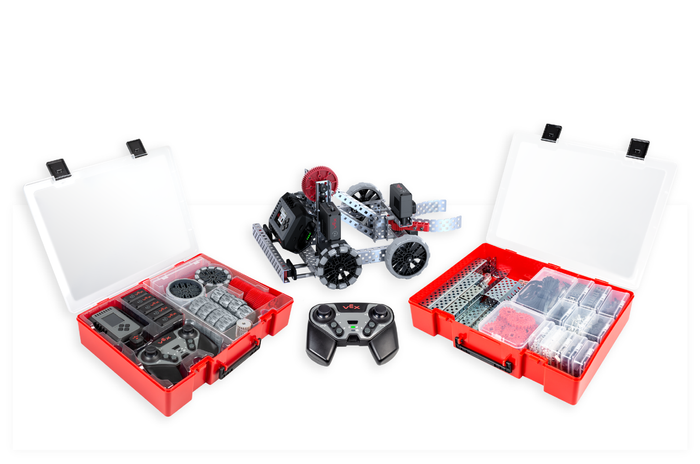 The VEX EXP Education Kit brings real world STEM to students aged 14 and up. This kit is designed to build a single robot.
See the EXP Classroom Bundles for multiple kits with extras for classrooms.
Organised Storage is a Game Changer
The EXP Education Kit comes packaged in two storage bins. Every part in the kit has its own dedicated location with labels inside each bin, keeping everything organised and easily accessible.
STEM Lessons
The kit comes with access to STEM Labs, our research-backed educational solution. These 40-minute lessons can be utilised in sequential order to create unique, extended learning experiences which include lesson plans, presentations, leading questions and more. STEM Labs promote collaboration and exploratory learning.
VEX EXP Electronics
The EXP Education Kit comes with everything needed to power, remotely operate, and code your robot. The Robot Brain connects your entire robot together, and includes a colour screen for quick and easy control. A lithium-ion Robot Battery provides all-day classroom usage in most situations and includes a button for quick battery charge indication. The wireless controller enables operation and testing of robot builds and the Optical and Distance Sensors enhance detection capabilities. Smart Motors make it all come to life with power and precision using integrated sensors for accurate movements.
VEX EXP Robot Construction System
VEX EXP uses metal parts with nuts and screws to assemble robots that give real-world immersion into STEM.
Coding Done Right
Code your EXP robot using VEXcode EXP Blocks, C++, and Python. Available for Chromebooks, Tablets, Windows PCs and Macs.