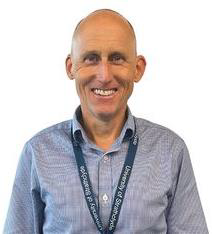 Roddy Yarr
Executive Lead Sustainability
,
University of Strathclyde
Roddy Yarr is Executive Lead for Sustainability at the University of Strathclyde Roddy is a sustainability expert who is responsible for the development and delivery of climate change and social responsibility initiatives that address the University's response to net zero and sustainability issues across all of its operational assets in west central Scotland.
Roddy leads the Sustainable Strathclyde team which is delivering the University's Climate Change and Social Responsibility Plan and net zero targets Roddy successfully led the delivery of the 20 M District Heating project at the main campus He developed the design and funding programme that has enabled the delivery of the University's first energy carbon neutral building in operation at the new National Manufacturing Institute Scotland He is project sponsor for the 13 M 'Heart of the Campus' people first open space redevelopment at the University.
Roddy has also developed an innovative, bold and collaborative Climate Neutral Districts vision deploying 100 renewable heat, power, active travel, adaptation and well being solutions across all University assets in the central belt of Scotland This multi award winning vision takes a partnership approach to enable 'scale and speed' of climate action in Glasgow and region, with people at the centre.
Roddy advises the Sustainable Glasgow Partnership and he is the convenor of Climate Ready Clyde a multi agency partnership in the City Region Roddy leads the Clyde Mission Net Zero Group that is seeking to decarbonise the Clyde Corridor Roddy is a board member of the Clyde Climate Forest Programme Group and an e xternal advisor and Board member of the West Dunbartonshire Energy Company LLP which operates the award winning Queens Quay Heat Pump and Energy Centre He is an external advisor to the Scottish Parliament's Sustainability Board and to the Glasgow Metro Project Roddy is also a member and sustainability advisor for the Monklands Hospital Replacement Committee.
Roddy is an EAUC Fellow He is also a Trustee of the Friends of Loch Lomond and Trossachs National Park.
Climate Neutral Innovation District | Glasgow City Innovation District