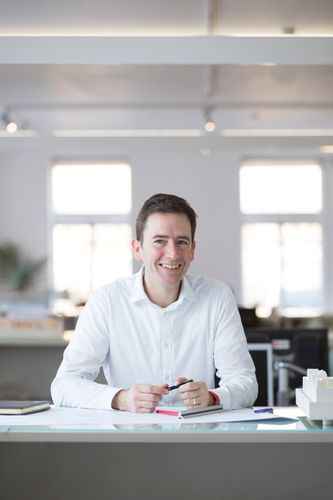 Edward Dymock
Ed is a graduate of both the Welsh School of Architecture, Cardiff; and the Mackintosh School of Architecture, Glasgow.
After working in Kuala Lumpur, and for Glasgow's Elder and Cannon Architects, Ed joined BDP in 2005 and is now an Architect Associate.
His multi-sector and international CV contains projects in sectors that include Conservation, Residential, Further and Higher Education, Workplace and Transport and Urban Master-planning.
Ed led the design for redevelopment of Glasgow Queen Street Station, from concept to the completion of detail design, before talking the role Project Architect for Heriot Watt's new Dubai Campus.
Extending over 7 floors, Heriot Watt's vertical campus makes use of biophilic design principles to reference the stunning environment of the Edinburgh Campus forging links to the University's Scottish heritage and identity.
As BDP Scotland's Sustainability Champion, Ed is passionate about sustainable design - and is keen to share his approach to the design of projects that not only create economic benefits and invigorate their settings, but also bring delight to the lives of their users.